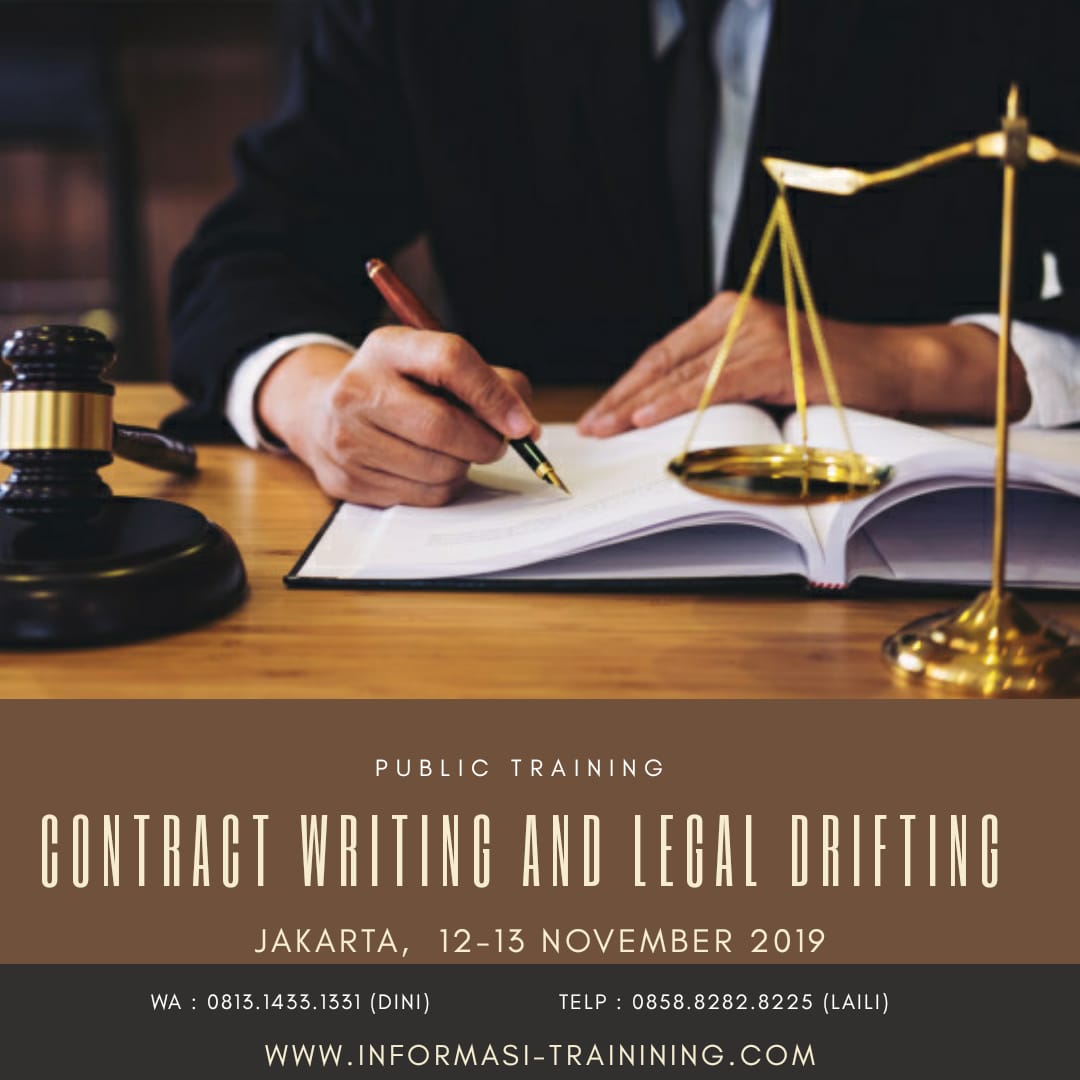 Training contract writing & legal drafting ini akan membahas seluk beluk hukum kontrak dalam dunia perbankan
Dreamtel/ Ibis Hotel, Jakarta | 16 – 17 Januari 2020 | Rp 4.500.000,- ALMOST RUNNING
Dreamtel/ Ibis Hotel, Jakarta | 17 – 18 Februari 2020 | Rp 4.500.000,-
Dreamtel/ Ibis Hotel, Jakarta | 16 – 17 Maret 2020 | Rp 4.500.000,-
Dreamtel/ Ibis Hotel, Jakarta | 16 – 17 April 2020 | Rp 4.500.000,-
Jadwal Training 2020 Selanjutnya…
TUJUAN PELATIHAN
Dengan mengikuti pelatihan contract writing and legal drafting ini, peserta diharapkan dapat memahami, menguasai, mengetahui, tentang bagaimana cara membuat draf dan kontrak perjanjian, memahami prinsip dasar dan aspek hokum dalam penyusunan hokum kontrak, memiliki keahlian dalam legal drafting khusunya dalam institusi perbankan.  Perjanjian atau kontrak menjadi penting bagi perbankan sebagai perlindungan hukum dalam setiap transaksi bisnis yang akan dilakukan, segala hak dan kewajiban masing-masing pihak yang terlibat, tertuang dalam hukum kontrak yang telah disepakati bersama. Sehingga masing-masing pihak dapat memahami dengan benar akan pembuatan hukum kontrak yang dimaksud, dimana apabila dikemudian hari terjadi hal-ha yang tidak diinginkan, dapat diselesaikan sesuai dengan hukum dan ketentuan yang disepakati bersama.
MATERI PELATIHAN CONTRACT WRITING AND LEGAL DRAFTING FOR BANKING
Ruang lingkup kontrak dan hukum kontrak
Aspek hukum kontrak dan  sumber hukum kontrak
Proses terjadinya kontrak
Klausa-klausa spesifik hukum kontrak
Resiko dan leabilities dari kontrak
Sumber dan hukum kontrak di Indonesia
Teknik menyusun dan membuat dokumen hukum dan perjanjian
Langkah penyusunan kontrak  dari pra konstraktual sampai penyusunan kontrak yang sebenarnya
Negoisasi bisnis dalam melakukan kontrak
Studi kasus
PESERTA PELATIHAN
Semua karyawan atau manajer yang terlibat langsung maupun tidak langsung dalam kegiatan kontrak atau negosiasi.
METODE PELATIHAN
Presentasi diskusi, studi kasus.
FASILITATOR PELATIHAN
TEAM TRAINER
Tanggal 16–17 Januari 2020
Tanggal 17–18 Februari 2020
Tanggal 16–17 Maret 2020
Tanggal 16–17 April 2020
Tanggal 14–15 Mei 2020
Tanggal 15–16 Juni 2020
Tanggal 16–17 Juli 2020
Tanggal 18–19 Agustus 2020
Tanggal 14–15 September 2020
Tanggal 15–16 Oktober 2020
Tanggal 16–17 November 2020
Tanggal 14–15 Desember 2020
INVESTASI PELATIHAN
Hotel Ibis / Dreamtel Jakarta: Rp 4.500.000,- (Empat Juta Lima Ratus Ribu Rupiah) belum termasuk pajak terkait.
Investasi sudah termasuk:
Sertifikat keikutsertaan.
Coffe Break 2X dan Lunch.
Souvenirs dan Seminar Kits.
Seminar Bag.
Modul
Contract Writing and Legal Drafting For Banking